MAIN
Wooden houses Finnish technology
The main activity is the design, production and construction of energy-efficient wooden houses and cottages according to the best European quality standards. The engineering team constantly monitors, studies and implements the latest technologies and materials, offering the most advanced, modern and effective solutions.
A separate direction of our activity is the design and construction of
Orthodox churches and the manufacture of church domes
Quality and Reliability
The design of your future home is done by certified specialists - observing all the norms and rules (SNiPs), as well as the standards of the best European companies. The construction is completed with materials of own production, the work is performed by experienced teams of workers and foremen.

We perform and improve
Full range of services and materials
Our experienced and proven team will perform the entire cycle of work from design to decoration. We use round logs, chamber dried profiled timber beams, glued timber beams for our houses, we also are building wood frame houses.
Transparent terms and real price
The cost of the house is fixed in the contract and is unchanged in the process of construction. All work is carried out under the contract according to the agreed deadlines.
Variety of projects
We offer a large number of standard projects, we can adapt any of them to your needs or create an individual project for your needs and architectural preferences.
Energy efficiency
Achieved by the arrangement of external walls and roofs with low heat transfer coefficient. Energy-saving windows, heat pumps and solar collectors, competent ventilation system, make your home more efficient and comfortable.
Long term guarantee
We give a guarantee on the house constructive up to 50 years .
Experience
We have been working on the construction market since 2008, more than 100 projects are built all over Ukraine.
Your desire + our experience will allow you to achieve EXCELLENT RESULTS,
Kindly take a look at our main types of structures suitable to fit any budget:
One-story house/cottage


House with a mansard floor
And second light

Two-story house


Sheds, terraces, garages and
household buildings
---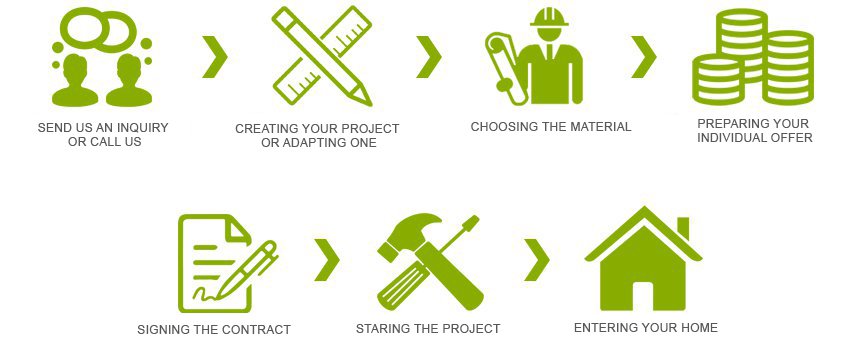 ---

EXAMPLES OF OUR WORK
| | |
| --- | --- |
| | |
| Development of a project house 300 sq.m. | House 196 sq.m., laminated glued logs, 2017 |
laminated glued logs houses 2016
Project in development March 2018, installation of the dome November 2018, work continues ...
| | |
| --- | --- |
| Profiled log house 187 м2, 2015г | laminated glued logs house 100 м2 2015 |
| | |
| --- | --- |
| Orthodox Church 2017, 80% ready | Project in development - Orthodox Church 2018г. |
| | |
| --- | --- |
| Orthodox Church project 2017 | Orthodox Church project 2017 |
| | |
| --- | --- |
| Russian Bath, round logs 2017 | Round logs house 2016 |
| | |
| --- | --- |
| laminated glued logs house 2015 | Guest house complex, laminated glued logs 2015 |
Call us!
(067) 965-77-57
Please make an appointment with our managers.
We work throughout Ukraine