Wooden cottages construction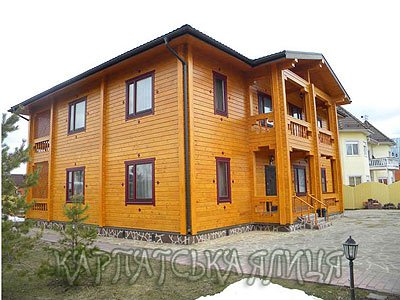 The construction of wooden cottages in Ukraine today is a fairly popular area in the construction business. The refined and solid appearance of the houses of wood has always fascinated and attracted attention. Despite the fact that the construction of wooden cottages has not such a high price, the finished house looks very solid and rich. Due to this property, many Ukrainians order the construction of turnkey wooden cottages from professional companies that can turn any sketch into reality that depicts a man's dream home.
The construction of wooden cottages, houses, sauna, gazebos and other types of structures can be carried out quickly and efficiently by the masters of our company. In our work we use not only our specialists who have many years of experience in the field, but also innovative technologies for the construction of wooden houses, as well as the best equipment and tools available today. This all allows us to carry out the construction of wooden cottages in the shortest possible time.
To build wooden cottages cheaply, quickly and, most importantly, with a high quality of work we depend on our masters.

We offer our customers affordable prices, an individual approach and impeccable quality of wooden buildings made by our craftsmen. The houses created by our specialists will stand for many years and will certainly delight you with their appearance outside, as well as the warmth and comfort inside.