Turnkey wild log house in Ukraine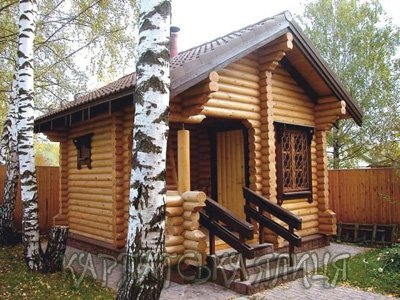 Wild log house (turnkey, prices, Ukraine) - this is an excellent money investment. Investing in real estate is considered as a good investment, and building a house made of natural environmental materials is an even better investment. Houses from wild logs (prices, Ukraine) are built by many people today, because such buildings are in trend today. Modern high-quality processing of logs and wooden bars makes it possible to make wood resistant to environmental influences. Processed wood is not afraid of beetles and rotting. Therefore, turnkey houses (prices, Ukraine) have been operated by owners for many years without visual and functional deterioration of walls, roofs and other parts of the building.
Order wild log house (prices, Ukraine) from our company. Over the years of its operation, our construction company has created many objects, and all their owners were completely satisfied with their quality and design.
Besides the fact that building a wild log house (prices, Ukraine) on a turnkey basis allows you to create very beautiful and eco-friendly buildings, it is also economically beneficial. The construction of a wooden house will cost you much cheaper than building from bricks or other materials. After all, for the construction of a wild log house does not require powerful foundations, the costs of which are substantial. Another advantage of a log house is its excellent thermal insulation.
If you are interested in wild log house (prices, Ukraine) on a turnkey basis, then you need to contact our company.