Turnkey profiled log house
Considering a project for turnkey profiled log house? We have been building such houses for years and are ready to implement the most daring ideas. Houses of wood today are chosen as places for permanent residence, they are indispensable for mini hotels, villas and recreation centers.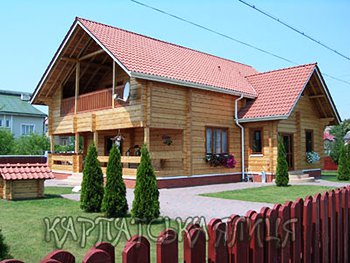 Houses from profiled logs are relatively quickly built. They do not require interior decoration, wood is able to create a beautiful interior itself. We are conscientious about the design and subsequent construction of such houses, the responsible attitude to the construction and the use of reliable materials is a guarantee of the durability of the building. Houses from profiled timber are well-deserved in demand, they look representable and practical. In houses made of wood, it is cool enough in summer, and you will be able to warm them up to the required temperature in winter, the wood remarkably stores the accumulated heat.
Houses from a profiled log are also popular due to their undeniable environmental friendliness. Optimum humidity and proper oxygen balance are maintained in wooden houses in the best possible way. Warm shades of a house made of wood have a beneficial effect on your mood; you will never get tired of the exterior of such a house. If you have long been considering having a log house and you find it difficult to decide on building your own, contact the professionals and we will destroy all doubts. Consultants of the enterprise will gladly shed light on the issues of concern and will help you make an informed decision regarding the area and other subtleties, starting from the specific purpose of your planned home.
Interested in a turnkey profiled log house? We recommend high quality homes and offer really reasonable prices.