Round logs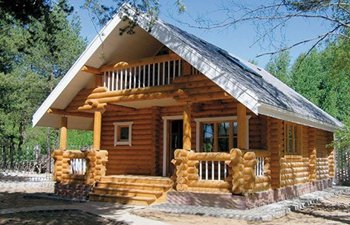 Round / cylindrical logs

Round / cylindrical logs.
This is the most popular material for building wooden houses primarily because of the relatively low price and speed of the construction process. We offer cylindrical logs of spruce or pine with a diameter of 180 – 240 mm. The material is extracted from ecologically clean regions of Ukraine (Carpathians, Poleza). Depending on the load, the delivery time is 1-2 weeks. The material has a natural humidity and does not require additional drying, due to its specificity as a construction material. Speaking out of experience, we would recommend not to take on trust the statements of some "specialists" about the hundreds or even thousands of cubes of wood harvested in winter that lies and waits for the customer when the hot spring summer construction season starts. For a full-fledged construction in this way, it is necessary to prepare forests in the range of 1–2 thousand cubic meters for a year (who will invest in such volumes), plus the problems with storing it in piles unedged (there is a risk of fungus, mold, bugs).
The cylindrical logs give the house a classic appeal while the skilful hands of our masters will provide comfort and cosiness.
Call us!
(067) 965-77-57
Please make an appointment with our managers.
We work throughout Ukraine