Buy turnkey wooden wild log house
Have you been planning to buy a wooden house for a long time and are you looking for a company that you can entrust the whole cycle of construction work? We recommend you today to buy a log house. Our builders have considerable experience and are interested in building quality, offering affordable prices.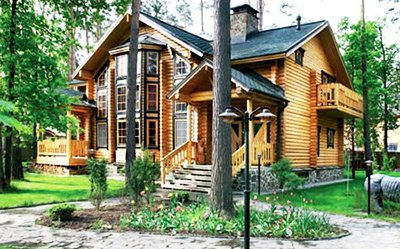 To buy a log house means to provide yourself with an environmentally friendly housing. We use only high-quality wood from the northern regions of Ukraine and improved construction methods. We do not attract intermediaries for the construction process, which allows us to maintain adequate prices. Buying a log house is important to those who appreciate the true comfort of their own home. In wooden constructions the warmth is well kept in winter and they are cool enough in summer. The structure of the tree has a unique look, you will never get bored with the exterior of your house. When planning to buy a turnkey log house, keep in mind that for such houses you will not need an overly powerful foundation. Wooden walls have predominant thermal insulation characteristics and therefore the cost for heating will be much less than for the owners of a brick house. To buy a log house is certainly beneficial because of its true durability. Entrust the construction to professionals and do not doubt that it will last for decades. Contact the sales department and the nuances of calculating the cost, the features of each house will be discussed with you personally.

We appreciate the trust of customers and therefore we work on every home with genuine enthusiasm, tirelessly monitoring the quality of each element.