Laminated log house construction (price)
Nowadays, many people prefer to build a house of natural wood. It will always have "forest" smell. In addition, the interior of a wooden house soothes and always remains relevant. Especially beautiful wooden house looks in the mountain villages. There are several variations of materials that are used for the construction of a such house: hand-hewn wild logs, round logs, and wooden frame slabs. The greatest number of advantages has the timber, namely, glued and profiled logs. The house from these materials, turns out durable, aesthetically beautiful, does not require a long shrinkage, built-in in short time. If this material is the most suitable for you, you need to know how much it costs to build a laminated log house. The price substantially varies.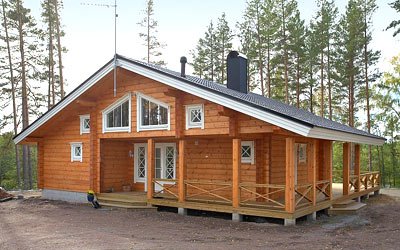 The exact price of building a laminated log house can be calculated only after the approval of the project and the purchase of all materials. The scale of the house, above all, is the factor that defines the cost. The quality of the materials purchased for this also affects the price. However, they cannot be saved. Poor quality and poorly treated timber significantly reduce the life of the house. It is better to pay more once, because spending on good materials always pays off.
The key point affecting the price of building a glulam house is the cost of work. These includes drawing up a housing project, preliminary preparation of the land plot, laying the foundation, assembling all the walls, windows, doors, roofs of the house. Of course, the external processing of the timber is also necessary.
Order the construction of a glued log house (the price is affordable) from our company!


Are you interested in building a glulam log house? The price and other details in our company are specified personally by the manager.
Just give us a call! You will not notice how fast you will live in your own wooden house!