Profiled log house construction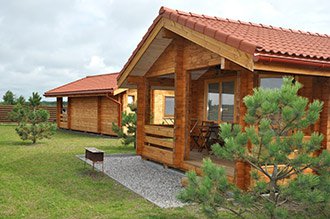 Nowadays, many people are trying to live a healthy lifestyle. To do this, you must create all the necessary conditions. It is very important to eat properly, systematically exercise. Also do not forget about the place of residence. Therefore, if you want your health to be minimally affected by the negative influence of the environment, it is worthwhile to take care of choosing the most environmentally friendly materials for building your own home.
Due to the fact that a healthy lifestyle has become quite popular among the population of our country, the demand for the construction of houses from profiled timber logs, has increased. Natural material is not only safer for humans, but also has excellent performance and decorative characteristics. Wooden houses, in ancient times and today are considered as the most beautiful. Modern woodworking and a professional approach to construction allows to combine elegance and appeal of the building.
Houses from profiled logs have good thermal insulation, which is a very important and relevant factor at the moment.
Building houses from profiled logs is the creation of housing for many years, as the excellent performance characteristics of such a building material will not leave any doubt on the reliability and durability of the house. Of course, this can be achieved only if the construction is carried out by a team of highly skilled craftsmen in this industry.
You can order the construction of profiled log house from our company.