Wooden laminated log house (turnkey)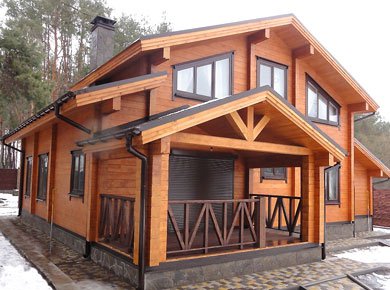 Recently, ordinary wood in the role of building material is no longer relevant. A more thoughtful choice of recognized wooden houses is from glued logs. Nowadays, laminated timber is a high-tech, not the cheapest material but chosen by people who value reliable and stable homes. It is made by the method of drawing up separate boards in special packages and their further gluing in-between. The basis for manufacturing glued timber logs is mainly coniferous trees. Wooden houses from glued logs are being built all over the world: in Russia, Finland, France, Austria, Japan, America and in cold Canada. Even the Hall for meetings of the Parliamentary Assembly of the Council of Europe in France is built of laminated logs.
Among the positive properties of glued log house, it is worth remembering that after the construction you can start finishing work and move in very fast. Unlike the ordinary round and profiled logs, glued ones do not require time for shrinkage. This is an opportunity to save from one to several years and begin to live faster in the long-awaited house. At the same time, wooden houses from glued logs can stand for over a hundred years!
Glulam is also easy to finish. With the use of ordinary timber and hand-hewn logs, the interior of the house can correspond to the subject of forest housing. Wooden log houses inside can be sheathed with plasterboard. It will be a little more difficult than to sheathe the walls of a brick house, but it is quite feasible. The drywall will allow to issue the house in any style, even in a modernist one.
Wooden turnkey glulam houses can be built by ordering the services from our
construction company!
We will make sure that your wishes about come true!