WOODEN FRAME HOUSES
Quality FRAME HOUSES from Drev Dom Stroy company: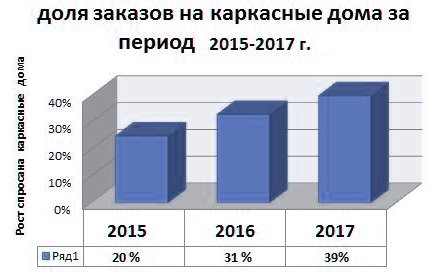 Our company has experience in the construction of frame houses for more than 10 years. Every year the share of frame houses in the total volume of construction is growing:
For the period 2015-2017, the share of orders in our company's portfolio - frame houses made up almost 40%, this number includes: houses using the classic Canadian technology, half-timbered houses, as well as houses in the style of the latest European trends with a large proportion of glazing: HUF-HOUSE style and LITE - HOUSE (light, clarified).
Today, our company's engineers have accumulated many years of experience and improved the classical technology, developed our branded product, which provides:
Energy efficiency
Latest equirement for energy efficiency in accordance with SNiP, determined by the coefficient of heat transfer resistance R of walls, roofs, windows, floors and other building structures, standard values are:
R = (for external walls) 3.30
R = for roof 4.95
R = for windows 0.75
In our homes, these figures significantly exceed the normative, frame houses are considered the most energy-saving technology.
Required level of natural ventilation:
To ensure vapor permeability and air exchange, without heat loss, we use a super-diffusion membrane and vapor barrier in the wall structure. The membrane does not allow moisture to pass outside, but gradually lets air through, and a vapor barrier regulates the passage of internal vapours, preventing the formation of condensate, thus achieving the necessary comfortable microclimate in the room, which is not possible in SIPТs (structural insulated panel).
Reliability:
sound insulation up to 50 dB,
seismic resistance up to 8 balls on the Richter scale
service life not less than 50 years (guarantee under the contract for the bearing constructive 10 years)
The house built by us complies with all Construction Norms and Rules adopted in Ukraine (SNiP).
We cooperate only with companies that have an impeccable reputation: REHAU, BAUMIT, BRAAS, TEGOLA, RUUKI, ROCKWOOL, TECHNONICOL. Most of them give a guarantee of 10-30 years for their products.
The frame of the future house is made only of high-quality planed wood, dried to 12% moisture with the help of Italian equipment, according to technological requirements. Also, we can make the frame of the house from glued timber. All components of the house are assembled at our own production, the quality of work and their compliance with technological requirements at all stages of construction are strictly controlled.

Short construction time: the construction of a frame house takes 2-4 months, and you can build at any time of the year
Big variety of design and construction options for finishing the facade and interior walls:
Finishing of facades
of frame houses can be any: plaster, brick, composite materials fibre-cement plates, tree (imitation of a bar), siding.
Interior finish:
mainly used for wall panelling or drywall sheets, followed by painting or wallpaper.
When finishing the facade with wood (imitation of timber) it is recommended to use a material not less than 30 mm thick, which will avoid unnecessary deformations under the influence of moisture, sun, heat, and frost.
8500-11000 UAH/m2
---
Exterior wall construction
OVERLAP

Interfloor overlapping have a thickness of 250-400 mm.

Sound insulation is made of Rockwool or Knauf Ecose mineral acoustic plate 200 mm, the upper plane of the ceiling is closed with 2 layers of structural plate, 2 * 22 mm. The bottom plane of the ceiling is protected by vapour barrier and stitched with finishing materials: sheets of drywall, clapboard, etc.

As an additional base under the finishing floor for improved sound and vibration insulation, we recommend laying 2 layers of Knauf Dry Floor 2 * 12.5 mm slabs; any finishing covering can be laid on these plates: tiles, laminate, parquet, etc. Screed


ROOFING

On the attic floors, the roof is insulated with a Rockwool or Knauf Ecose mineral plate, not less than 200 mm., It is protected from the bottom with a vapour barrier film and hemmed with finishing materials: drywall sheets, clapboard, etc. Depending on the type of roofing material, the necessary elements and the roofing coating itself: metal tile, bituminous roofing, etc.
PARTITIONS
The partition thickness is 130-180 mm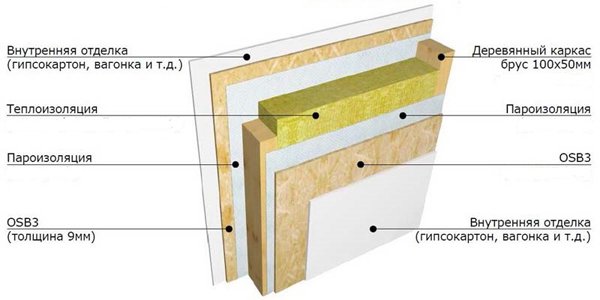 Partitions that are not included in the bearing scheme of the frame have the function of dividing the space, foundations are not required for them, because they are based on existing floors. The main requirement is reliability and good sound insulation.
---
FOUNDATION for frame houses
Frame houses do not require the arrangement of massive deep foundations, the most commonly used options are::
SHALLOW STRIP FOUNDATION

Ideal for small structures (one-story sizes up to 9x9m), with a high level of groundwater, allows significant savings on materials.
The main requirement is strict adherence to the technology of work performance.

PILE FOUNDATION

Suitable for all types of frame houses. Piles can be both concrete and metal (geological screws). Compared with the traditional belt, it allows to save the amount of concrete and labor costs, often used in the presence of a layer of a large thickness of weakly bearing soils: karst, peat bogs, and with significant elevation differences in the area.

SWEDISH PLATE TECHNOLOGY FOUNDATION

Swedish plate technology is ideal for frame houses, can be built on most types of soil. This is the most heat-efficient type of foundation, it also includes the heating system, Уwarm floorsФ, the wiring of water supply and sewage pipes, the laying of electrical cables, the flat surface of the slab serves as the basis for the finishing floor.
---
| | |
| --- | --- |
| | contract and deadlines |

| | |
| --- | --- |
| | transparent cost calculation |

| | |
| --- | --- |
| | fixed price |

| | |
| --- | --- |
| | Our own timber production |

| | |
| --- | --- |
| | more than 10 years of experience |

| | |
| --- | --- |
| | more than 100 built projects |

| | |
| --- | --- |
| | experienced team |

| | |
| --- | --- |
| | full cycle company |

| | |
| --- | --- |
| | warranty |
SERVICES
OPTIONS:
Basic
Turnkey - Optima
Turnkey-Maximum
Project: draft / work
Х
Х
Х
Foundation, prepared engineering communications
Х
Х
Х
Screed base Ц first floor base
Х
Х
Х
Outside walls: insulation, and frame
Х
Х
Х
Facade: plaster or wood paneling
Х
Х
Х
Inside walls:inslutaion and frame
Х
Х
Х
Roofing: metal tiles/ bitumen tiles + insulation
Х
Х
Х
Roof overhangs trimming

Х
Х
Х
Ceilings:frame + insulation
Х
Х
Х
Metaloplastic windows, window sills, window drip caps
Х
Х
Х
Main Entrance door (metal-made in Ukraine)
Х
Х
Х
Engineering communications: heating, water, sewage, electrics
Х
Х
Finished laser screed floor
Х
Х
Interior wall cladding: plasterboard / wood
Х
Х
Interfloor staircase framework (metal)
Х
Х
Fine finishing of the walls of ceilings: wallpaper, sanding lining, painting walls, sheathing interfloor stairs
Х
Tiling: walls cladding, floors
Х
Laminate laying / parquet, baseboards

Х
Interior doors
Х
Installation of devices: electrical, plumbing, heating
Х
quoted prices are approximate, the final price is determined after the calculation and approval of the project details
price including materials, work and delivery within 30 km from Kiev
the cost of projects with smaller area is higher, about + 10-15%
the cost of projects with larger area is cheaper, about + 10-15%
The price does not include
: boiler room equipment, ventilation equipment, chimneys, septic tank and well.
---
We are offering options for standard projects with prices, if the Customer wants another option - our company is ready to make an offer based on your sketch with the subsequent development of full-fledged project documentation.