Laminated glued log house construction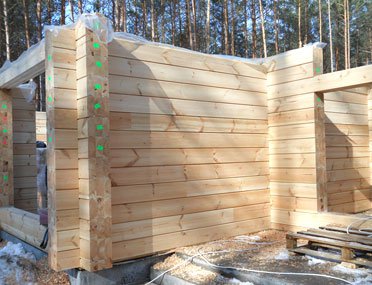 Glued laminated timber is one of the most popular materials used for the construction of houses, baths, cottages, churches and many other structures. The desire of many people to build a house from this material is due to a number of advantages that it has over others. First, the construction of glued log houses takes little time, so you can build a building as soon as possible. Secondly, glued laminated timber, unlike other types, practically does not change its size (does not shrink). This property allows for the completion of the construction of houses from glued laminated timber immediately to take up further work. In addition, the aesthetic appearance of the timber, a flat smooth surface does not require special finishing work, on which you can save money.
Contact us if you are interested in high-quality construction of houses from laminated logs. We work all over Ukraine and use only high-quality raw materials, thanks to which our houses are distinguished by a high level of strength and durability.
The construction of houses from glued logs is mainly carried out from coniferous (mainly pine) tree species.
Glued laminated log represents glued panels of wood that have undergone special processing on expensive equipment. The manufacturing process requires the participation of an experienced professional. Due to the specifics of the manufacture process of this material, its price will be slightly higher.
Building houses from laminated logs is the creation of warm, comfortable and beautiful structures that are not blown through, retain heat in the winter, and cool in the summer. The environmental friendliness of the tree is a guarantee of good health for you and your family.
If you want to live in such a house, please contact us. We carry out the construction of houses from glued logs in a short time, efficiently and inexpensively.