Turnkey profiled log houses price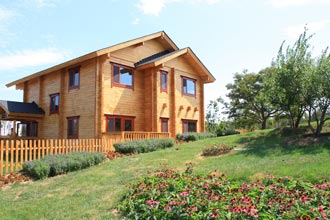 Today, many people are concerned about the issue of ecology, which is directly related to human health. Therefore, the home of environmentally friendly, safe materials is becoming increasingly popular. A house from a profiled log has a number of advantages, including aesthetics, low construction costs, and natural environmental friendliness of the material. Our company uses only high-quality profiled timber logs, which has passed through chamber drying, but not just dried in a natural way. Such timber reduces construction time, since it takes less time to shrink and settle.
Our company will help you to quickly build a beautiful modern turnkey house from a profiled high-quality timber logs. We work all over Ukraine.
A special feature of the construction of a turnkey house from a profiled log is the assembly without nails. This ensures uniform shrinkage and also prevents possible rotting due to condensation of moisture on the nails. One of the factors to be proud about choosing a round log house is that the walls are even and flat, which facilitates the finishing work required by every turnkey house. The profiled log used by our company can be 160 or 200 mm thick.
The wood ability to withstand large temperature drops makes it perfect for the construction of houses and cottages in regions with different climatic conditions.
A turnkey house built by us from a profiled log keeps the heat warm in winter, and provides coolness in the summer, making living in such a house as comfortable as possible at any time of the year.