Laminated turnkey log house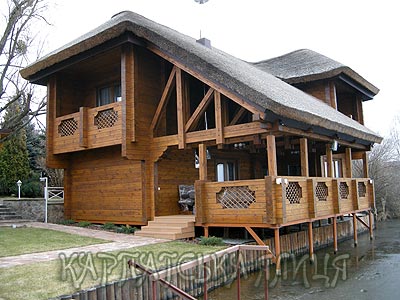 A wooden house is a cherished dream of many Ukrainians. Especially if it is built somewhere outside the city limits, in an ecologically clean area, close to nature. Living in a house of laminated logs will always give you a high esteem, because it looks just gorgeous. Such a structure is always associated with good quality, reliability, warmth and comfort.
Of course, building a house is a difficult task for a non-professional. And the problem here is not even in the features of the building material. To prepare the site, to buy building materials, to organize the construction process from start to end is not a work for everyone. Therefore, many people choose a simpler version of building their own home, namely, they order a turnkey house from laminated glued timber logs. This option is suitable for those who do not have the ability, desire or courage to do it personally. A turnkey house made of laminated logs will be created with minimal participation of the owner in the building process. A company providing such a service will solve all organizational issues and problems on its own.
In order to have a turnkey house made of laminated glued logs it is more efficient to order it from a company with a wealth of experience and a good reputation among consumers. Building a house is a serious work, the implementation of which should be done by real professionals. Anyone who wants to end up with a really good turnkey house made of laminated logs but at the same time to spend a reasonable amount of money, we recommend contacting the company, which itself is engaged in the preparation of the building material. Such companies will be able to offer an adequate price for the timber, will be able to answer for its quality, and therefore for the quality of the structure being built.
Our experts are ready to build a durable and beautiful turnkey house of glued laminated logs.
Our company is ready to be responsible for every construction process, starting with the purchase of timber and ending with the finishing works. Each of our customers in the end gets just such a turnkey house from laminated logs, which he dreamed of.