Turnkey round logs houses price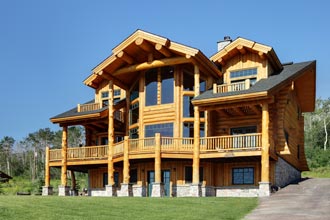 One of the most environmentally friendly and popular materials today for the construction of a cottage or a country house is rounded log. Our company is round log turnkey houses. Due to its environmental friendliness, as well as low cost, this material is a common choice. In the summer, houses made of round logs create a pleasant coolness, and in the winter, even with a strong frost, they keep warm well. Due to this, the rounded log is suitable for the construction of houses in regions with very different climates. Adverse external factors such as moisture, insects, and others do not affect the round log. On the turnkey basis, many customers prefer to build such a cottage. Impeccable, attractive appearance is another advantage of this house.
Our company professionally builds high-quality, using rounded logs, turnkey houses throughout Ukraine.
Breathable wood structure provides a natural process of air exchange. This property is of particular value in cases where doors and windows are closed for a long time. In the construction of each house of this material there is a feature that must be taken into account. Wood has a tendency to shrink, so after installing the log house, it is necessary to postpone further work, including internal finishing, for several months (4-6 months).
The natural beauty of the tree in conjunction with the imagination of the architect allows you to create, using a rounded log, turnkey houses unique in aesthetics.
Competent approach of professionals to the construction of houses from logs is the key to a beautiful, reliable home that will stand for many decades.