Laminated log house construction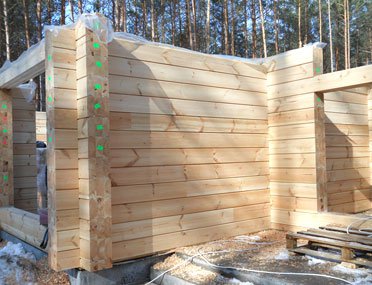 Nowadays, sometimes it is much cheaper to build a house from scratch than to buy a finished one. This is not only the fulfilment of all desires relating to the coveted housing, but also a significant saving of resources. You can build a house using different materials. But since ancient times, it is common to build wooden mansions, especially from laminated glued logs. The total cost is not small, but it is fully justified. Construction of laminated glued log houses is a choice towards an environmentally friendly, natural, durable and warm home.
The construction of glulam house is chosen today due to the advantages of this wood as building material. First of all, its use allows you to build a surprisingly beautiful house, both outside and inside. This is an excellent option for lovers of nature and natural safe materials. Inside the house there will always be a pleasant, soothing smell of wood. Outside, such a country house will look cozy and fabulous. However, you should not think that having chosen the glulam, you will need to spend your whole life in the "forest" interior. If you want to change the nature and classics to a more modern design, you can always sheathe the inner walls with drywall and fulfil all your desires.
The construction of laminated glued logs house is distinguished by its high speed, and immediately after its completion you can begin to do interior decorating. And if a log house takes a lot of time to shrink, the laminated timber buildings do not have this disadvantage.
Are you interested in building a glulam house? Call us! We have reasonable prices!


Stay close to nature - choose the construction of laminated glued log house!