Affordable turnkey log houses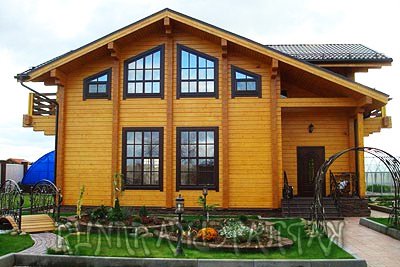 At all times, houses from wood as a building material, are in great demand. Such houses are popular not only because of their environmental friendliness, wood is able to provide the house with genuine coziness and a comfortable atmosphere. If you consider to buy a turnkey log house cheaply, we are ready to offer you unique options for building decent houses.
Log houses can be inexpensive, and they can be built not exclusively for a recreation center or a summer house. In such houses you can truly live comfortably throughout the year. Wood perfectly retains the accumulated heat in winter, and does not overheat excessively on hot days.
We offer decent cheap log houses on a turnkey basis, built upon unique projects. Our architects and truly talented designers with genuine inspiration are working on each home. Entrust us with the necessary calculations, the subsequent construction of the house and the unsurpassed result will undoubtedly satisfy you.
Interested in turnkey log house, cheap? We are ready to build a reliable and truly attractive house for a fair price.
The recommended cheap log house will not leave anyone indifferent. Such a house is perfect for a young family, which appreciates the comfort and tranquility of country life, and will be an excellent gift for your parents for a well-deserved rest.
To evaluate the proposed log house, which are inexpensive, please contact the sales department of our company. Our builders are proud of each constructed building and the project of your house realized by us will truly exceed all your expectations.