Wooden turnkey house (price, Ukraine)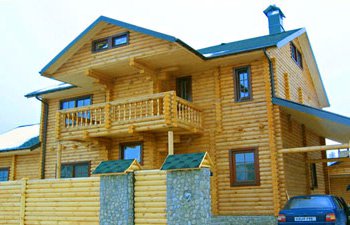 In Ukraine, the price of a turnkey wooden house is not as high as it may seem. Especially if you decide to compare the cost of a similar building of bricks or other materials. However, in comparison with them, wooden buildings have an incredibly comfortable look and high comfort for living.
Our company focuses on the production of wooden houses in Ukraine (turnkey), the price of which does not exceed the market value of other similar buildings from competitors. But at the same time, we offer really high-quality construction using natural materials, with all the stages of construction work. The price of a wooden house in Ukraine includes the calculation of planning, the cost of materials, and construction work.
The most important stage of any construction is the choice of building materials, because they will determine the size, shape and colour of your building. For the construction of turnkey wooden houses in Ukraine, the price of which will depend on the area of the building, you can choose the necessary material: spruce or pine, which are mined in the northern regions of our country. And since wood is lighter than other materials used in construction, such buildings do not require a strong foundation, this option may even be more profitable than the same brick option.
We offer not only a full list of materials for the construction, but also services for the full construction of a turnkey wooden house in Ukraine.
We fully, independently carry out all stages of the construction of a turnkey wooden house. The price (Ukraine) of our services is significantly lower than that of most competing companies, so we are often being chosen to carry out such work.