Construction turnkey profiled log houses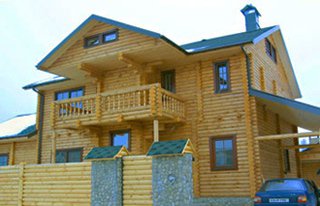 Building profiled log houses (turnkey) is not an easy task, which requires special skills and proper equipment from the manufacturer. Our company has been engaged in such construction for a long time, so we not only have significant experience in working with various types of buildings, but also offer only the highest quality raw materials.

If you want to organize turnkey construction of houses from a profiled log, then you need to decide which material suits you best. We offer several different types of trees, wild logs and a different approach to the use of each material, so there are quite a few options for managing the construction. But the most popular is the construction of houses from profiled log (turnkey).

Building houses from profiled logs is not easy, but if you order it from professionals such as our company, the construction time may be even higher than from brick.


Construction (turnkey, profiled log) is carried out only from quality wood, which is supplied from the northern and western regions of Ukraine. The office of our company, Karpatska Yalitsa, is located in Kiev, but we operate throughout the country, and our products are in such demand that we offer the export of our products to other countries. And unlike most companies, we are engaged in packing, sending goods, as well as controlling the entire process of its delivery to you.

If you want to organize the construction (turnkey houses) of profiled logs, then we are ready to organize the whole process. We start by drawing up a detailed construction plan and the final price calculation, and you end up with a building completely ready for living.