Wooden turnkey houses projects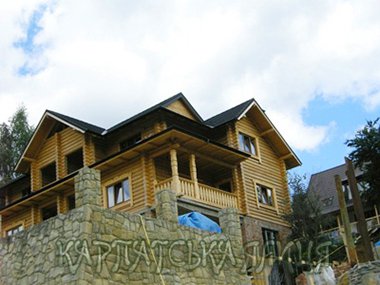 Undoubtedly, one of the best investments today is an investment in building your own home. We recommend projects of turnkey wooden houses, which will undoubtedly become the best option for a recreation center, a small hotel, and of course for a permanent residence or summer cottage.
Turnkey wooden house projects are represented by a truly impressive assortment and, depending on your expectations regarding the planned real estate, you can truly find the right one for you. Also, the architects of the company with genuine enthusiasm are ready to develop an exclusive project for your home, taking into account all the nuances you are interested in.
In wooden houses, people feel particularly comfortable. Also, the construction is done by only environmentally friendly materials, which definitely can be attributed to its benefits. Evaluate the projects of turnkey wooden houses and you will undoubtedly find particular house, in which you really want to live.
Interested in turnkey wooden house projects? We recommend the planning of a truly reliable home.
The presented projects of turnkey wooden houses imply the construction of truly durable houses. We responsibly perform each stage of the construction processes, because it is important for us that the building, we have built really pleases the customers every day. Wooden houses perfectly keep cool in the summer and do not release the accumulated heat in the winter.
If you have long dreamed of a country building, the projects of turnkey wooden houses will allow you to realize this dream. Call the sales department of the company on the above phones and together we will undoubtedly select the appropriate project for the true convenience of your stay.