Profiled log houses price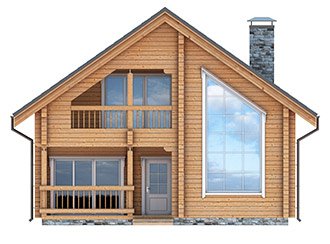 Houses from profiled logs, the price of which is currently not excessively high in Ukraine, have begun to enjoy fairly high demand these days. Such residential buildings are very practical, have an elegant and attractive appearance and retain heat well. The assembly of profiled log house is carried out by masters who have good skills and experience in building houses, and will finish it quickly and efficiently. In cold weather, this type of housing is very easy to heat and maintains an acceptable and comfortable temperature for a long time, and on hot summer days, owners of houses from profiled logs have the opportunity to enjoy a pleasant coolness.
Houses from profiled logs, with our quite adequate price for the majority of people, have an unsurpassed appearance due to the perfectly smooth and as flat as possible surface of the logs. Such a house looks simple and at the same time very solid.

Also, worth noting is the fact that houses of profiled logs, have more affordable price in comparison with round log houses, and are also environmentally friendly. Choosing a profiled log as the main material for building your own house is the most cost-effective and rational solution for any modern person. This material is considered quite practical and durable. Therefore, such a house will certainly delight you and your family over the years. Our company creates beautiful and high-quality houses of profiled logs for quite acceptable price.