Turnkey laminated glued log house (inexpensive)
Are you looking for a company that builds laminated glued log house, cheaply? We are engaged in personal design, the subsequent construction of such houses and offer fair prices. Houses made of wood are now in growing demand, because they have significant advantages.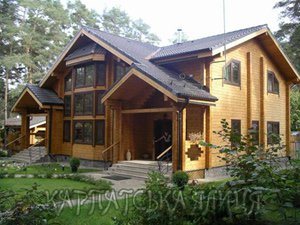 It is inexpensive to build a glued log house, making an order today. Such houses are indispensable as cottages and recreation centers for tourists. Of course, living in such a house is possible throughout the whole year. Wood is undoubtedly an environmentally friendly material and therefore many today choose in favour of such housing outside the city limits. Turnkey houses from glued timber will be inexpensive, but they will serve really long. The construction of such houses does not require much time, and if it is entrusted to professionals, it will be completed at exactly the appointed time. Turnkey houses from glued logs, which are inexpensive, look great even without interior decoration. In addition, such houses do not need an excessively deep foundation, as for houses of similar size, but from other materials. Such houses are able to maintain the stability of warm temperatures in cold weather and not to let the hot air flow inward on hot days. If you are considering a glued log house, which is inexpensive and you want to get proper advice on the nuances of drawing up the project and the construction, please contact us at the numbers suggested above.

We value the trust of our customers and are interested in the best way to implement the draft, in order to fully satisfy the customer's wishes.