Laminated log houses (Kiev)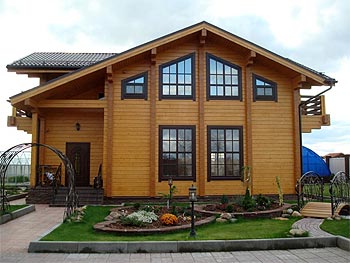 Glued laminated timber logs, is a durable and beautiful building material. Many will probably not refuse to build a house out of such a timber. Recently in Ukraine everything natural and close to nature is in fashion. Houses from glued timber (Kiev) are also quite popular.
The main advantage of timber as a building material is simplicity in work. The wood is processed easily and takes the set form. It is the preparation of timber for construction that takes the most time and effort. When the timber is cut to the desired length, freed from knots and other flaws, it already has special grooves-locks, it will be absolutely not difficult to build the house out of it. For the construction of a house of laminated logs (Kiev) builders need only a few weeks. While brick and concrete buildings can be built over the years. In addition, in the case of a laminated log house (Kiev), you can save money on the purchase of materials for interior and exterior. Wooden walls themselves are very decorative, and therefore do not require excessive masking in the form of plaster, putty, and so on. The best option would be to apply lacquer or paint on the timber, which can preserve and make more expressive the texture of natural wood.
The advantages of timber can also be attributed to its resistance to destruction under the influence of hot sun, frost, wind, moisture. Of course, in order for the timber to be as durable as possible, it requires proper processing. Therefore, it is necessary to purchase building materials for building a house of glued logs (Kiev) from a bona fide manufacturer. Otherwise, the erected structure will not be able to please its owner for a long time and very soon will require serious repairs. It is worth noting that in addition to beauty, houses made of laminated logs (Kiev) can also boast a high insulating ability. Such a house will be able to protect its inhabitants in the winter from the cold, in the summer from the heat.
Interested in houses from laminated logs (Kiev)? Call us!
We will help with the preparation of an excellent in quality and affordable building materials. And if you wish, we will build a wonderful wooden house for you.